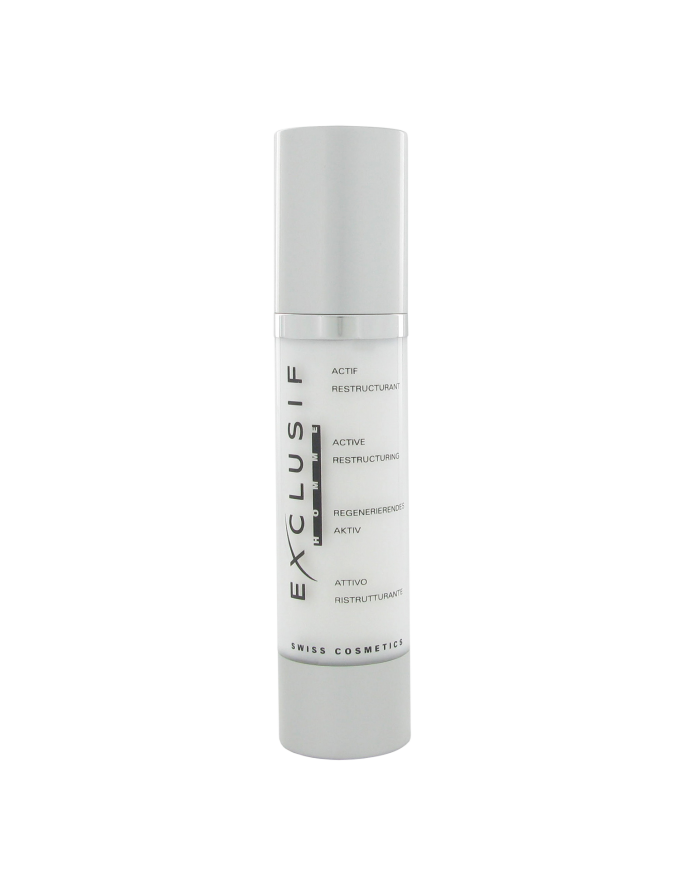  
Restructuring Active Night - 854
High performance non-greasy fluid emulsion.
Flattens wrinkles and adds softness and tone to the skin
Smoothes microrelief and regenerates skin
Provides an immediate and long-lasting sensation of softness and comfort
Suitable for all skin types
After cleansing your face with the Face Cleansing Gel Ref. 851, apply this emulsion every day to the entire face.
Care protocol
Morning:
Face Cleansing Gel Ref. 851 or Shower Gel Exclusif Ref. 856
-> With shaving: Shaving Gel Extreme Precision Ref. 858 and After Shave Balm Ref. 855
-> Without shaving: Beard Oil Ref. 857

(Morning &/or evening) Anti-Age Eye Contour Gel-Cream Exclusif Ref. 860
Hydro-Vitalising Active Day & Night Ref. 853
Evening:
Face Cleansing Gel Ref. 851 or Shower Gel Exclusif Ref. 856
(Morning &/or evening) Anti-Age Eye Contour Gel-Cream Exclusif Ref. 860
Hydro-Vitalising Active Day & Night Ref. 853 or Restructuring Active Night (for dry skin) Ref. 854
Special care:
Everyday: Shower Gel Exclusif, gentle and moisturising, for face, hair and body Ref. 856

(1 to 2 times a month) Exfoliating Gel Ref. 852, always followed by the Face Mask Exclusif Ref. 859

(1 time a week) Face Mask Exclusif Ref. 859
(1 time a week, in case of acneic skin) Rare Clay Mask Ref. 961 on pimples and more oily areas

Everyday. Tip: the Beard oil Ref. 857 can also be used on the hair, giving it a shiny, soft appearance. In case of oily hair, apply the oil without massaging the scalp
Why use a complete product line?
Since 1978, Predige has offered complete product lines, by skin type, for several reasons:
Use the most suitable combinations of active ingredients, depending on the skin type. For example, mature skin will need more hydration than young skin, which is likely to produce excess sebum. Each active ingredient is selected and tested to provide a specific action for each skin type
Maximise the effects of the active ingredients. We use the same basic active ingredients in all the products of the same line, which allows us to accentuate their effects
Avoiding harmful interactions between active ingredients in different products
Avoid mixing fragrances between different products. Predige products in the same line have the same subtle smell because they use the same active ingredients, essential oils or fragrances
Shea butter: rich in vitamin A, it provides elasticity and suppleness. Very good healing
Plant ceramides: moisturising, nourishing, restructuring, repairing, protective and anti-ageing properties
Hydrolysed rice proteins: moisturising, softening and smoothing effects
Sunflower oil: composed mainly of linoleic acid (fatty acid, omega 6) which allows good hydration of the skin
Siberian ginseng root extract: anti-inflammatory, anti-bacterial, anti-oxidant and soothing action
Hyaluronic acid: a natural component of our skin, it replenishes and strengthens the skin by stimulating hydration and improving elasticity
Essential oil of sweet orange peel: to perfume, tone, firm
Vitamin E: acts as a powerful antioxidant that protects and renews cells. Anti-inflammatory, healing, moisturizing
D-Panthenol (or provitamin B5): fortifying action, improves skin hydration, reduces irritation and inflammation
Stabilized vitamin C: neutralizes skin-damaging free radicals, stimulates collagen production, evens skin tone and has antimicrobial properties
Bisabolol: healing and soothing
AQUA (WATER), DICAPRYLYL ETHER, PROPANEDIOL, STEARIC ACID, PENTYLENE GLYCOL, CETEARYL ALCOHOL, GLYCERYL STEARATE CITRATE, TAPIOCA STARCH, 1,2-HEXANEDIOL, GLYCERIN, GLYCERYL STEARATE, BUTYROSPERMUM PARKII (SHEA) BUTTER, PANTHENOL, SODIUM ASCORBYL PHOSPHATE, CARBOMER, CAPRYLYL GLYCOL, CITRUS AURANTIUM DULCIS (ORANGE) PEEL OIL*, ETHYLHEXYLGLYCERIN, BISABOLOL, SODIUM PHYTATE, SODIUM HYDROXIDE, SODIUM HYALURONATE, TRITICUM VULGARE (WHEAT) FLOUR LIPIDS, TOCOPHEROL, HYDROLYZED RICE PROTEIN, HELIANTHUS ANNUUS (SUNFLOWER) SEED OIL, ACANTHOPANAX SENTICOSUS (ELEUTHERO) ROOT EXTRACT, LIMONENE*, LINALOOL*, GERANIOL*
* Essential citrus oil
No customer reviews for the moment.
Customers who bought this product also bought: