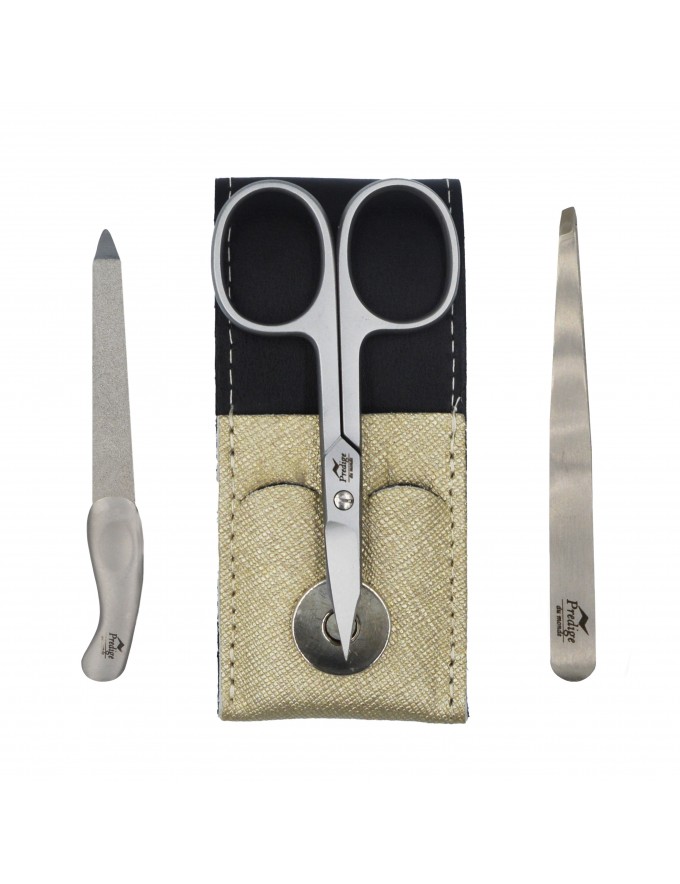  
-    Tweezer Pro - A341
-    Nail Scissors - A342
-    Metal File 9 cm - A344

This vegan Manicure Set contains:
Tweezer Pro - A341
The Rolls of the tweezers. Institutes love it, and individuals can now buy it on this site. It combines the precision of its bevelled jaw with an immediate grip.
The recyclable sandblasted stainless steel of these tweezers is a guarantee of hygiene, allowing frequent disinfection without damaging the tweezers.
Note: tweezers are a precision tool. The quality of Predige tweezers ensures decades of use ... as long as you don't drop them, for example on tiles, which could damage the jaw and prevent the hair from being gripped properly.
Nail Scissors - A342
For precision work: these scissors are elegant, precise thanks to their sharp point and extremely efficient. Their fit, sharpness and high quality stainless steel guarantee a clean cut, as well as reliability and durability. The recyclable sandblasted stainless steel of these scissors is hygienic, allowing frequent disinfection without damaging them.
These nail scissors are also ideal for precision work such as embroidery and sewing.
Metal File 9 cm - A344
This file has two different abrasive surfaces, for fast filing or gentle finishing. Made entirely of recyclable metal, including the handle, it guarantees years of efficiency. In addition, unlike cardboard or plastic, its sandblasted stainless steel is hygienic, allowing for complete and frequent disinfection without damage.
How many times have you bought tweezers, scissors or a file, only to find out that the quality is not there? Predige has conducted dozens of tests and our specialists have selected the best manicure products for you. They are exclusively made in Europe, in Italy and Germany, with the best materials.
There is no need to own dozens of tools, you just need the right ones and you will find them on this site.
Customers who bought this product also bought: