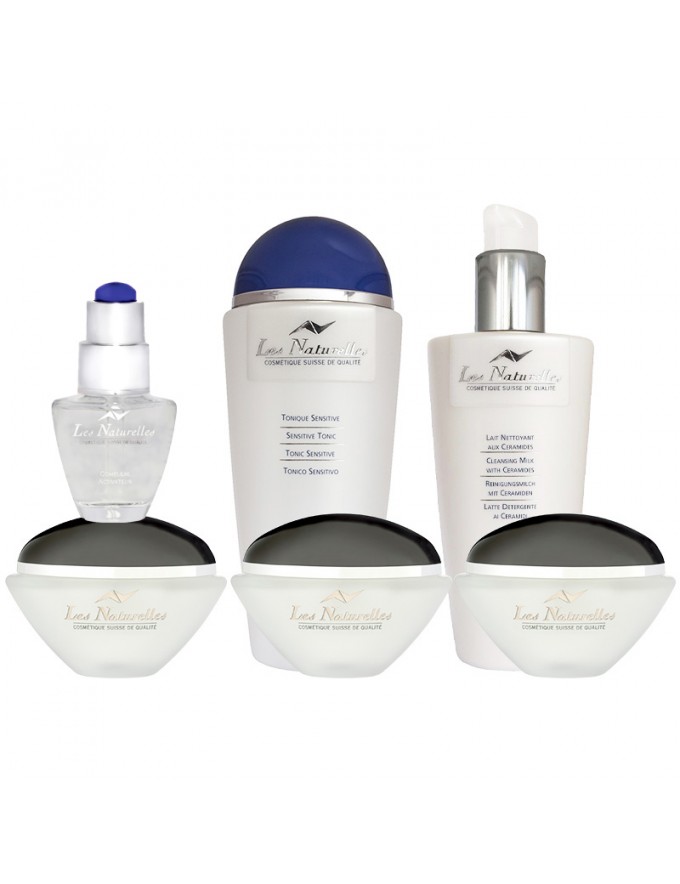  
Complete Ceramides line - 7700
344.40 CHF
Save 18.10 CHF
Minimises the risk of allergies, thanks to state-of-the-art technology.
701: Cleansing Milk with Ceramides
702: Sensitive Tonic
703: Day Cream with Ceramides
704: Night Cream with Ceramides
705: Mask with Ceramides
707: Gatuline R activator Complex
A proportion of the population has sensitive skin, which can easily become irritated and develop an allergic reaction to certain substances (antigens). This is usually due to an abnormal functioning of the body's immune system and takes the form of contact allergy or photosensitisation. The substances responsible for triggering an allergic reaction are extremely varied and can have different origins. Although it is not possible to establish very precise rules, the investigations carried out by PREDIGE in this field have led to the development of a cosmetic range that allows the risks of allergy to be kept to a minimum. This is achieved with the help of state-of-the-art technologies, particularly in the choice of ingredients, formulation techniques and manufacturing methods.
Why use a complete product line?
Since 1978, Predige has offered complete product lines, by skin type, for several reasons:
Use the most suitable combinations of active ingredients, depending on the skin type. For example, mature skin will need more hydration than young skin, which is likely to produce excess sebum. Each active ingredient is selected and tested to provide a specific action for each skin type
Maximise the effects of the active ingredients. We use the same basic active ingredients in all the products of the same line, which allows us to accentuate their effects
Avoiding harmful interactions between active ingredients in different products
Avoid mixing fragrances between different products. Predige products in the same line have the same subtle smell because they use the same active ingredients, essential oils or fragrances
Customers who bought this product also bought: